Day 25 – A TV show you're currently addicted to
Is TV show here include drama and variety show and everything that is on TV? Well let just do my way then :)
So for April, I watch Live and really love the drama. At first I only watch it because of Lee Kwang Soo and then while watching the teaser there was Bae Jong Ok and Sung Dong Il ! of course it makes me want to watch it more.
Live
tells the story of police officers - from the lowest field cadets and patrol officers, to their superiors including corporals, captains, and more - as they form the 'Live' team at the Hongil patrol division. Each officer has their own story, and each works hard in their own places at one of the busiest, most stressful jobs in the world, in order to earn a living.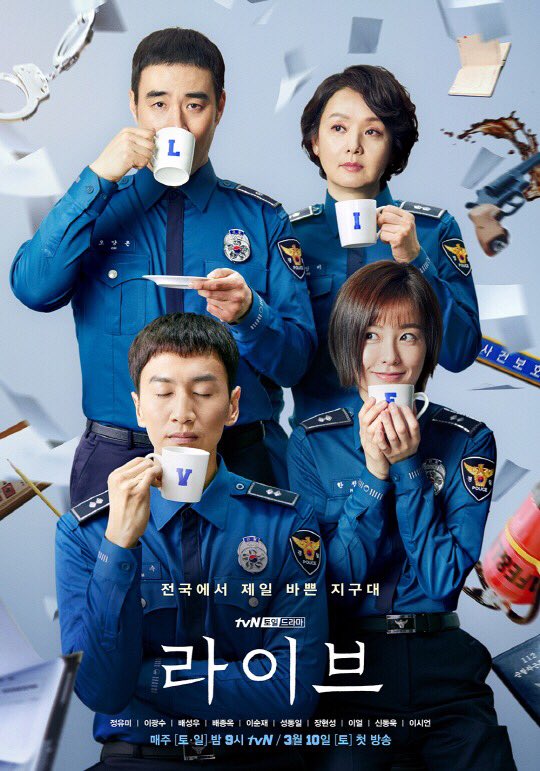 Lee Kwang Soo really is a good actor and poor him why do this drama also joke about his height? but maybe it is his charm and you can really spot him because of his height among those police when they are in line. Apart from Kwang Soo and the heroin, Jung Yu Mi story, Bae Jong Ok and his partner in the drama also play a big part in the drama. I almost confused why do Bae Jong Ok and Bae Sung Woo seem to have a bigger role in this drama. Isnt Kwang Soo the main lead?
Perhaps because they want to portray sunbae and hoobae or mentor-like relationship so they share the main role in this drama. Nevertheless it was worth it to watch this despite having thought like do Korean police do have to deal withh drunk people like that and it makes you realize how heavy their job really are and we really should appreciate them.